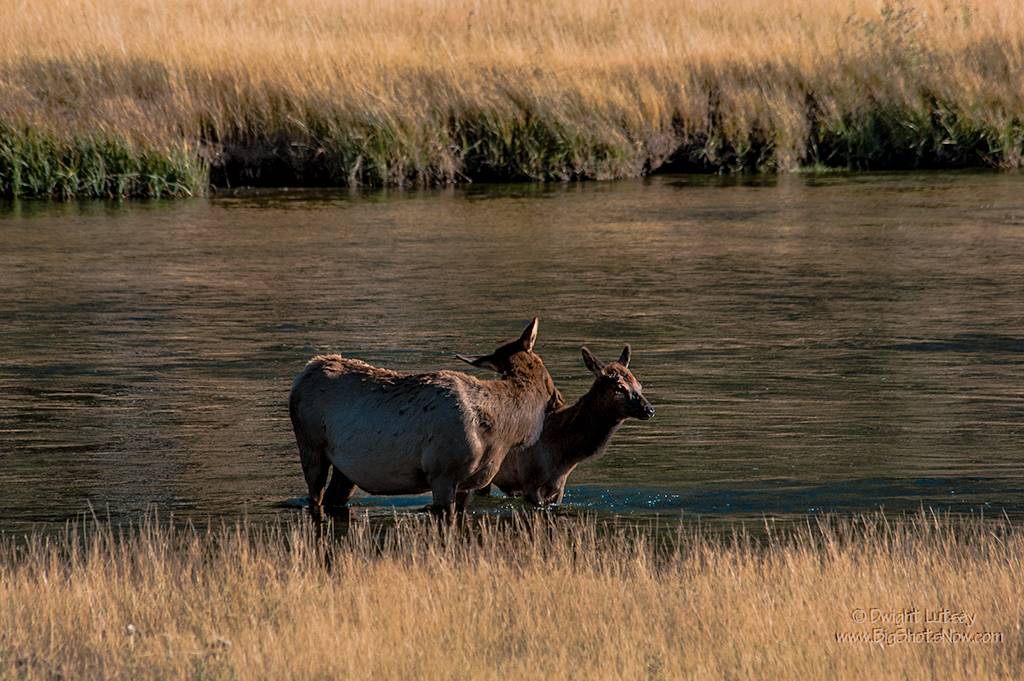 Every four years Yellowstone National Park puts on its very own Summer Games. This is similar to, but larger in scope, than the summer Olympics that occur for the human games, as it includes the entire park and all of its year-round inhabitants. Everyone participates according to their skill level and choice of events. We intend to periodically feature some of the participants as they train and get ready to win the gold.
This week we look in on little Ms. Lindsey Vethouf as she and her trainer mother, Constance Vethouf, get ready for Lindsey's participation in the Synchronized Swimming event. This event is one of the most popular and watched events of the entire games as it features close to 75 young cow elk swimming together in synchronized patterns in the deep pool area of the Firehole river. Lindsey although young for her age is an experienced river forder and is expected to place very highly in this event if not win it outright.
Normally this area would be full of tourists swimming and trying desperately not to be  swept over the 40′ falls just downstream in Firehole canyon, but for the Summer Games this area is closed to the public so the elk swimmers can train daily and finally compete in this important venue. This is a limited access event and as such does not have formal seating constructed, no bleachers or skyboxes have been built as the edge of the roadway past this area is only inches from the sheer drop-off, so the spectators must find their own way out onto the sheer cliffs that line the pool area and locate something sturdy to cling to as they view the events. The small risk of losing their footing and plunging down in the pool area is outweighed by the excitement of watching this spectacular bunch of young elk athletes perform their intricate maneuvers.
In the picture above you see Constance Vethouf adjusting Lindsey's fur to make sure it lies flat and shows itself as a fetching pelt, which helps not only with water resistance but aids in her ability to stay buoyant as she performs some of the routines that require her to float on her back. Constance, herself a medal winning Synchronized Swimmer having won the Bronze in the 2008 games, has a huge amount of knowledge to pass on to Lindsey. Everything from showing her the correct grass to eat to maintain her weight, yet have the energy it takes to stay in that cold water for the long hours of practice, to how to keep her head above water and not to lose points for gasping, spitting and looking like she is drowning when she is occasionally forced under water due to some of the more rigorous routines.
The games are shaping up to be even more spectacular than in preceding years and if you are lucky enough to get tickets for this event, remember to bring Crampons, Pitons, and a tested climbing rope as well as snacks and non-perishable water, as much of the seating requires technical climbing to reach. Watch for further posts as we feature more of this years Yellowstone Summer Games hopefuls as they train and dream of the Gold.