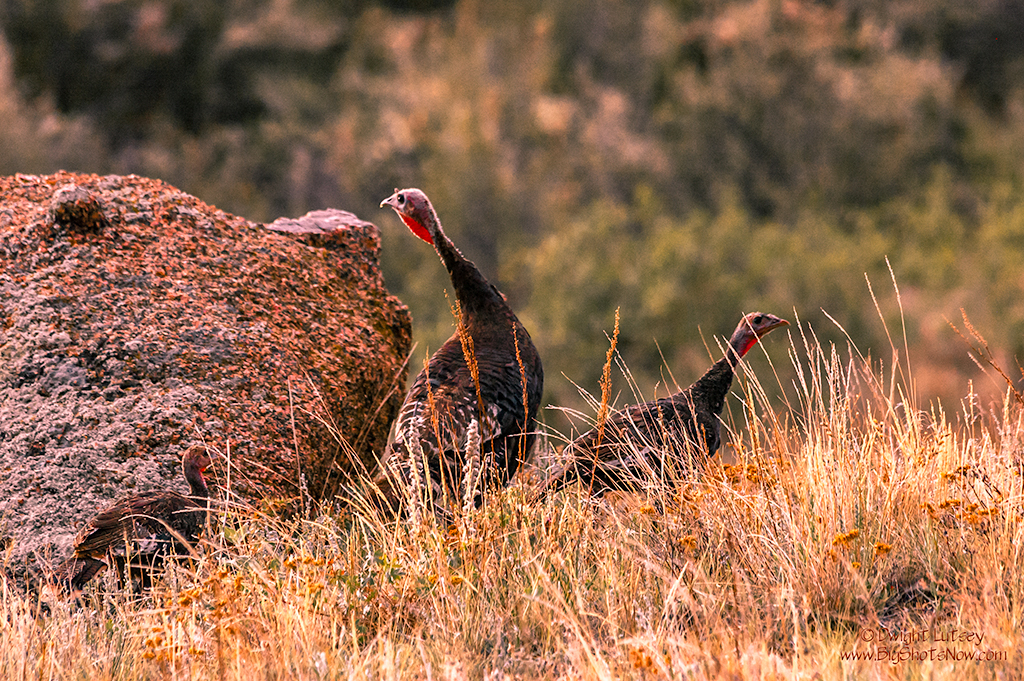 Turkeys are cautious creatures. Under those feathers lies a tastiness that causes an extremely high mortality rate come November. We mentioned in an earlier post how turkeys have begun managing this problem, the getting eaten problem,  ( http://www.bigshotsnow.com/surrealism-and-turkeys-a-holiday-story/ ) here at *The Institute, but we felt that we should delve into what happens after the holiday is over. When everyone is stuffed to the gills so to speak with their hapless cousins.
The genetically changed birds who have been safely (see above post) but surrealistically hidden begin their trek back to the easy but generally safe pickings around The Institute. Meanwhile the unchanged or non-GMO original turkeys come out of whatever haphazard hiding place they have been in.
Since Turkeys have a unique calendar, one that unfortunately has only eleven days to the month on it that resides mainly in their heads, and because they cannot hold things like calendars with their fat yellow feet, they miss out on about half the stuff that goes on around them during that part of the month that doesn't coincide with our human calendar. Unfortunately for them Thanksgiving falls on the missing days of their pretty dumb calendar but appears with startling clarity on ours. You can see the problems that this might cause our friends the turkeys.
Consequently beginning on the first day of November they begin scratching the days of the month on a nearby rock with their beaks to mark off the days until they should hide real good. It is important that they accurately mark off the days as they have to estimate how long it is after their eleven days of their month have been used up that they must hide for the next two weeks that aren't covered by their calendar. This is important because if they screw up and come out say the day or two before Thanksgiving………. Well you know what can happen, and given the high demand for their participation at the holiday table this can be disastrous for their Christmas plans.
On that first day of reappearance they are understandably nervous and jittery. The have to figure out if they've done a good job of estimating or not. What day is it exactly they ask. They can't depend on their own calendar due its unsatisfactory composition. That's why when you see turkeys in the wild like this bunch their heads are on a swivel and their cries of "Hey you know what day it is? Thanksgiving, zit over" ring through the neighborhood.
This bunch was lucky, they timed it just perfectly and emerged on the 26th of November just when humans are looking at the turkey carcasses sitting on the kitchen counters thinking "OK that's about enough Turkey for a while." So they're safe for the next year if you don't count coyotes or Great Horned Owls or some of the younger birds getting on crack or something.
Due to the paucity of large breasted turkeys this holiday the Director and his right hand woman with their very good friends had Cornish Game hens this Thanksgiving and you know what, they tasted just like Turkey.
* Note: For those of you unfamiliar with The Institute and what it does, please see the page labeled The Institute on the Menu Bar above. That should explain everything. You shouldn't have one single question remaining regarding The Institute after reading it. None. For those of you favored few who already know about the Institute, Nevermind. Return to your daily activities. Thank you for your support.