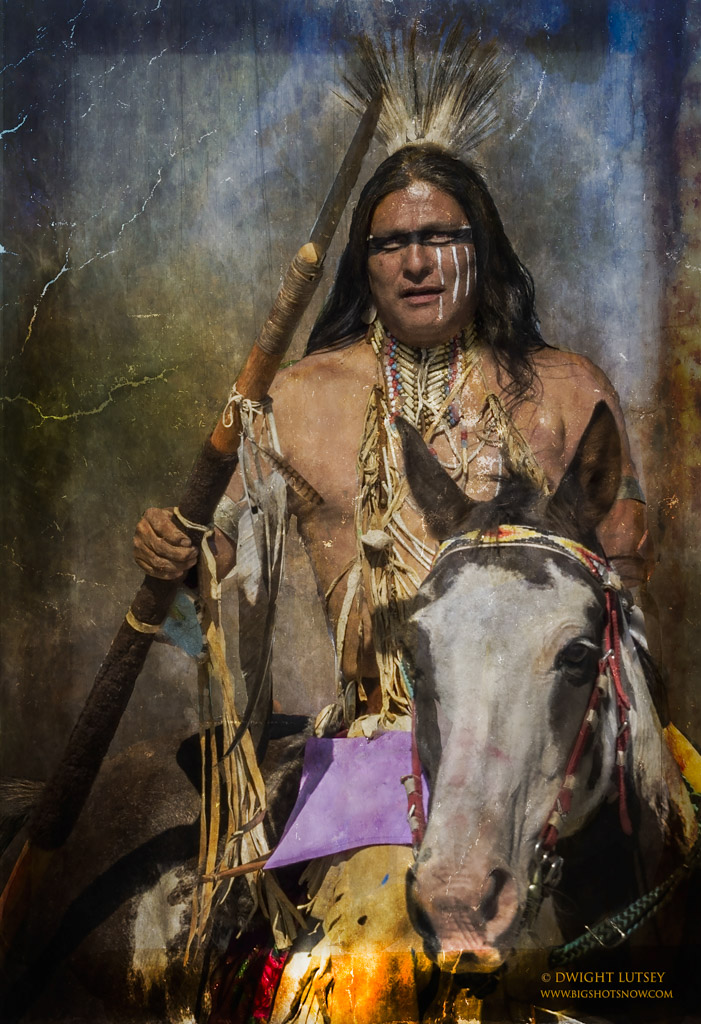 Sometimes when you are attending an event like an Indian powwow you observe a participant that is so perfectly matched to the event, it is like time travel. Such was the case at the Shoshone/Bannock powwow in Ft. Hall, Idaho. This man so epitomized the spirit of the warriors of old that he seemed to be a conduit between the past and the present. One could easily believe that he was riding out of his camp that morning over a hundred and fifty years ago and rode right into this gathering today to the amazement of both him and ourselves.
He rode in on the tail end of the parade as one of the last members of the procession and as he appeared time seemed to stand still. It was as if he had just stepped through a portal from the past and found himself in the strangest of circumstances. He rode at the crowd brandishing his lance. He yelled in his native language, he chanted, he swung his horse around in circles lest anyone try to sneak up behind him. And people believing that they were seeing someone unbound from modern conventions scrambled out of his way. His actions appeared to be those of a mid-1860's warrior rather than someone participating in a parade at a modern-day powwow.
It was a spectacular presentation of a person completely in touch with his history, his culture and the spirit of the event. It was as if he were chosen to be the one that Brings Back The Past.