This post has been moved to OpenChutes.com. All future postings of Powwows, Indian Relay Races, Rodeos and Rendezvous will be posted there from now on exclusively. So if you're looking for new images and posts for all those events attended this year, plus all the old posts posted on BigShotsNow.com check out OpenChutes.com. See you there!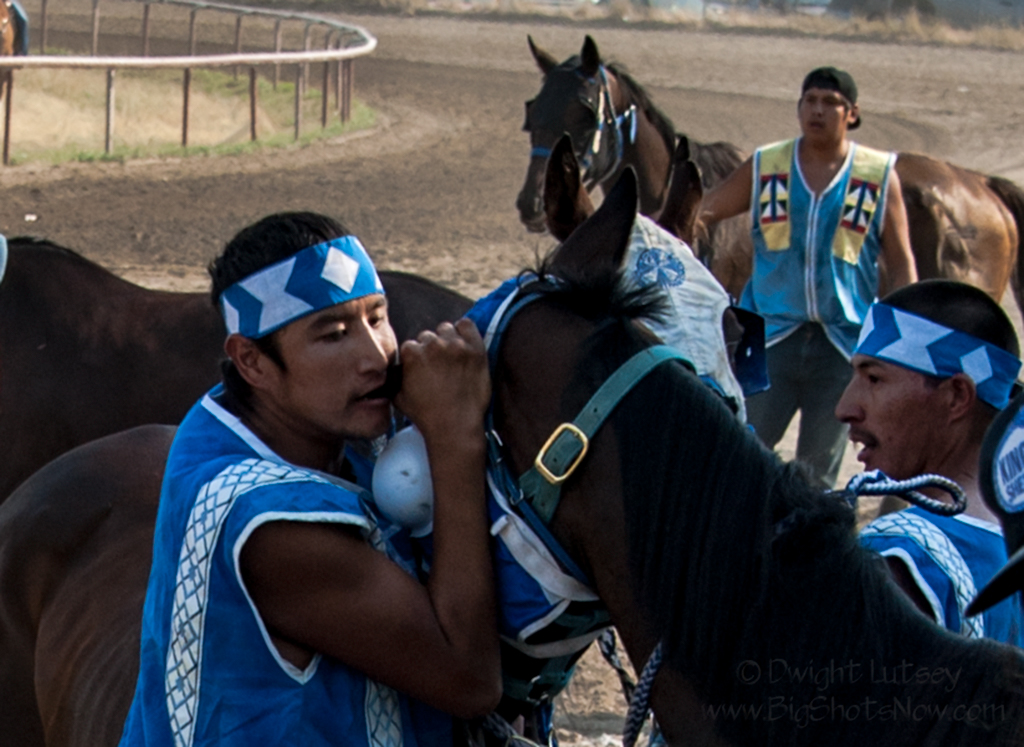 The highlight of any Indian rodeo is the Indian Relay Races. That event alone is worth traveling just about any distance to see. These races must be held out doors as the excitement generated at one of these races will simply blow the roof off any building you try to hold them in. I know, these are bold statements, but once you see one of these races you'll be a convert. To see more about these races visit this post http://www.bigshotsnow.com/crow-fair-2015-indian-relay-races/ to see it in action.
The intensity of the races builds to a fever pitch with horses, riders and even those in the grandstand filled to the brim with frenetic energy. Sometimes the excitement gets to the point where the horse loses control and begins to act up because it wants to be out on that racetrack running its heart out. But it isn't its time yet. It has to remain here in position so that when the relay rider comes in, it is ready for him to mount and race away, hopefully winning the race.
What you see here is a brief moment in time where the handler has an intimate quiet discussion with the horse explaining to it that it needs to remain calm. If it does it will have its chance in a second and that if it just stays calm a little longer it'll be out on that track running like the wind and it will be the winner. A horse among horses. King of the stables. Or something like that. It was hard to hear over all the screaming from the grandstands.
Surprisingly the horse calmed right down and patiently waited for the rider to come in and make the exchange. We'd like to report that this horse and rider did win the race but unfortunately that didn't happen. He came in second. There is only one winner in a horse race and this wasn't this horse's day. But there's always the next race, the next rodeo, the next chance to be a winner. They'll be back.