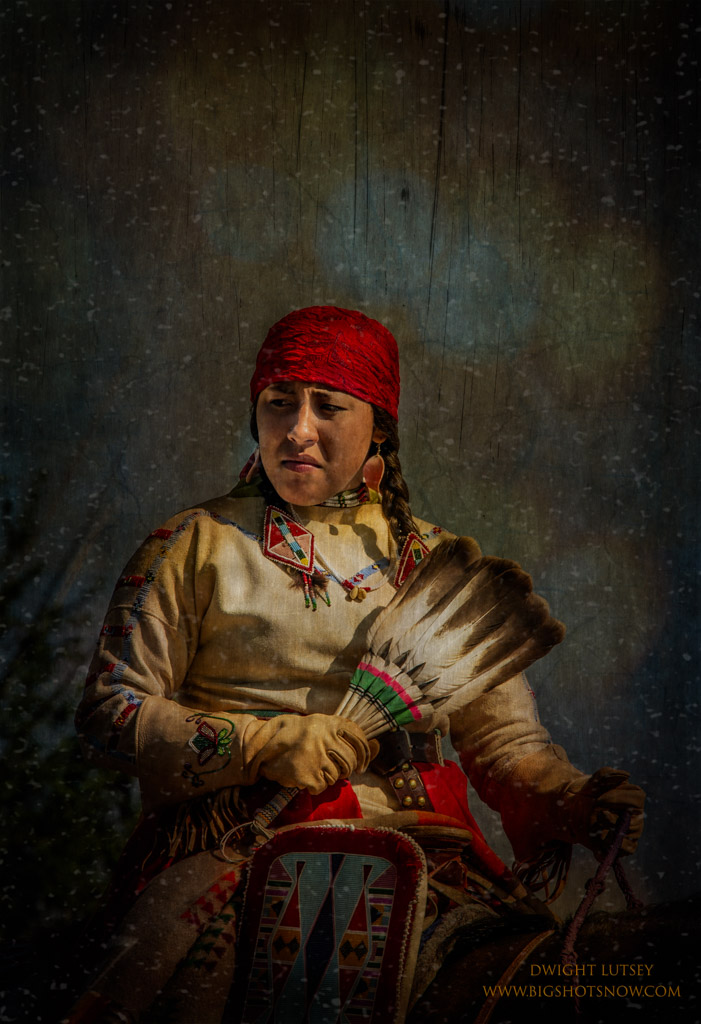 click image to enlarge
This is a portrait is of a woman on horseback in the Sunday morning parade held during Crow fair. The original photo was taken during the 2014 fair. It has been enhanced to appear as if it is a painting in the style of the old masters and was done to bring out the beauty and strength of the subject and to feature her regalia in the best possible light. Be sure to click on the image to see it full size on your monitor.
One of the highlights of the Crow Fair is the parade that is presented Sunday morning. To put it mildly it is spectacular and that is an understatement. Nearly everyone who has brought a horse to the fair enters the parade and is assigned to a category they wish to participate in. Categories included were "Women's Old Time Saddle", "Men's War Shirt", "Women's Nez Perce", Women's Buckskin", "Women's Elk Tooth", "Teen Boy's Reservation Hat", "Men's War bonnet", and many more. Each category shows off different aspects of traditional dress. The woman in the image above was entered in the "Women's Buckskin" category.
Crow Fair, called the "Tipi Capital of the World," is an annual event held the third weekend in August on the Crow Reservation at Crow Agency in Montana. It is one of the largest Native American events in North America and is run by a committee of the Crow tribe. There can be over a thousand teepees set up during the fair, along with parades, powwows, rodeos and other events too numerous to mention. To see more posts about Crow Fair simply type in CROW into the search box at the top of the page and hit enter. There are dozens of posts about Crow Fair with many pictures to show all aspects of the fair. Also be sure to visit our sister site http://www.OpenChutes.com to see more posts of Western Events. OpenChutes is a blog exclusively dedicated to Powwows, Rodeos, Cowboys, Indians, Indian Relay Races, Mountain Men, Rendezvous and any other western event that may occur in the Rocky Mountain West. Enjoy your visit.