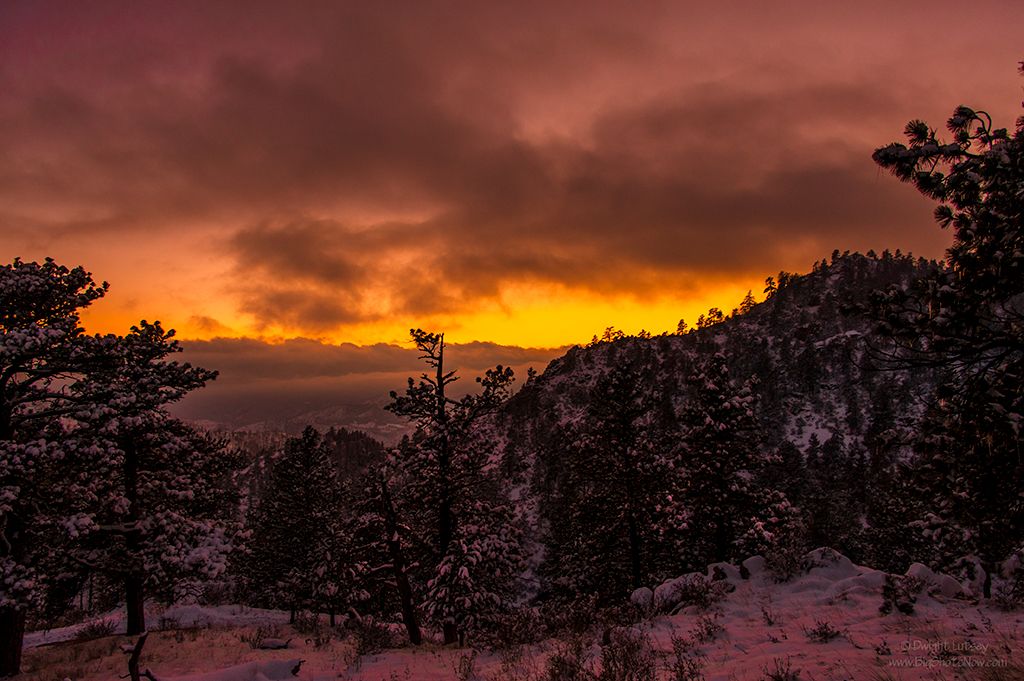 A final Sunset. Normally this would be an opportunity to have a big blow out and celebrate the end of a good year and the promise of a better one to come. But instead it feels like it would be best to just ease on out of this one for a lot of reasons both defined and undefined, and see if we can't do a little better next year. So I've elected to put up a sunset image taken from the deck here at blog central, to say good-bye to 2015 and wait for the dawn tomorrow to see what the sunrise brings.
Not to be all doom and gloom, there were plenty of good things happen in 2015. Things like, being in Washington DC to visit family and go to the space museum to see the airplane they named after my old pickup truck, the Enola Gay. Getting to spend time with new friends in the Blackfeet and Crow tribes up in Wyoming and Montana. Visiting Yellowstone yet again, not once but twice, Like how good is That. I was invited to shoot several rodeos in the area this summer and that brought back memories of when I was younger and could jump the fence with all my gear like a young gazelle, instead of staying up in the press box and using a long lens.
There were new people to meet. Some of them became good friends, one was very special. I got to oversee how The Institute came through the year, who got promoted (nobody) who got fired (mostly everybody), who lived, (most of who you wanted to) who died (most of the ones that needed to, some who didn't and should have), all of the projects they managed to undertake and somehow manage to get through even with that clown show that normally operates there.
There were some milestones. The blog broke the record for the number of countries who visited and hopefully read some of the posts here as well as look at the pictures, but hey, looking at the pictures is cool. I can't read Estonian or Cambodian, let alone understand it, so I'd be looking at the pictures too if I went to see their blog. This past year 2015 we had visitors from 76 countries. The year before that we had 66. We even had one visitor from North Korea, but then, as we got hacked, I don't know if we count that as a plus or a minus. Our readership has more than doubled, but as many of our favorite visitors are lurkers, (but nice ones) we don't have an accurate count of how many people were here. Scads of them, though. More than 'scads' actually. One scad equals maybe 100-150 or so, which makes 'scads' up in the thousands, even with a conservative count.
Even with all the good stuff 2015 felt like the kind of year you just want to get away from, like that guy who stands too close to you while you're trying to put your pin number in the ATM.  It was itchy feeling. There was enough bad stuff to satisfy even the folks from Depression Anonymous, but lets not go there. We don't want that sticking to us as we scoot out the door into 2016.
I want to take some serious time here and say Thank you from the bottom of my heart to all of my friends and readers, from home and from all the over the world, and to say may you have a year that fulfills you, allows you to prosper and live free of fear and be as joyful as you allow yourself to be. Because you have the final say over that. Exercise it often as you need to. Peace and Contentment to you all.
Dwight Lutsey
P.S. Come visit us all the time in 2016. Don't forget, put it in your calendar. "Go visit BigShotsNow today." See you then.