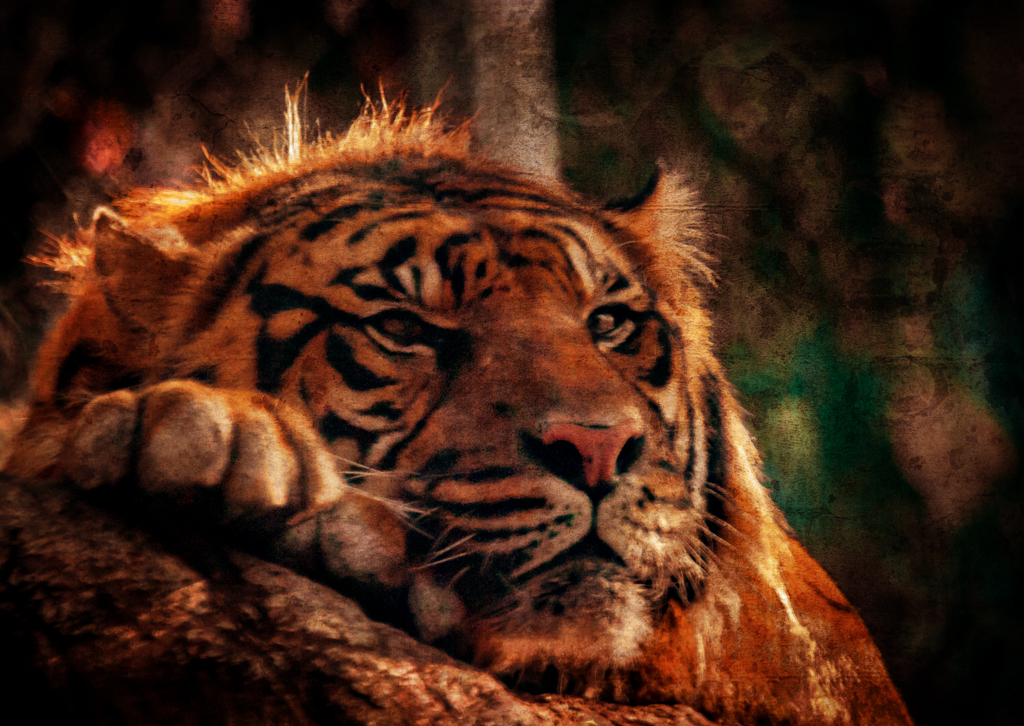 © Dwight Lutsey  www.BigShotsNow.com
Shadow Dreaming. That's what appears to be the activity this afternoon for this rare protected Sumatran tiger. Once again we delve into our files to bring you an image from our Captive Beauty series. This is Besar, a Sumatran tiger currently residing at the Denver Aquarium with his two companions Jalan and Marah. He is one of only 300 Sumatran tigers left in this world. To say the Sumatran tiger is endangered is to utter a colossal understatement.
Fortunately there are organizations that are working feverishly to protect and save these rare incredible tigers. They are now under the umbrella of the SSP, Species Survival Plan under the auspices of the Association of Zoos and Aquariums (AZA). To qualify for protection from these organizations an animal must be critically endangered in the wild and just preserving its habitat in the wild will not help its population numbers. The Sumatran tiger more than qualifies.
Besar may be dreaming of wild places he has never seen himself, or possibly just taking in the dappled light of the afternoon sun, but whichever it is he is a beautiful example of his species. One that must be protected from extinction at all costs.
As I've noted before, my agenda here, if you want to call it that, is not to debate animals in captivity, whether it's good, bad or indifferent, but to present those animals in a way that shows their strengths and character as well as their beauty. Which is why these posts are always titled "Captive Beauty." And there is no denying that these rare or endangered animals are beautiful.
If you're new to the blog or just want to see past posts of other captive beauties, just enter Captive Beauty into the search box at the top of the page and check them out.