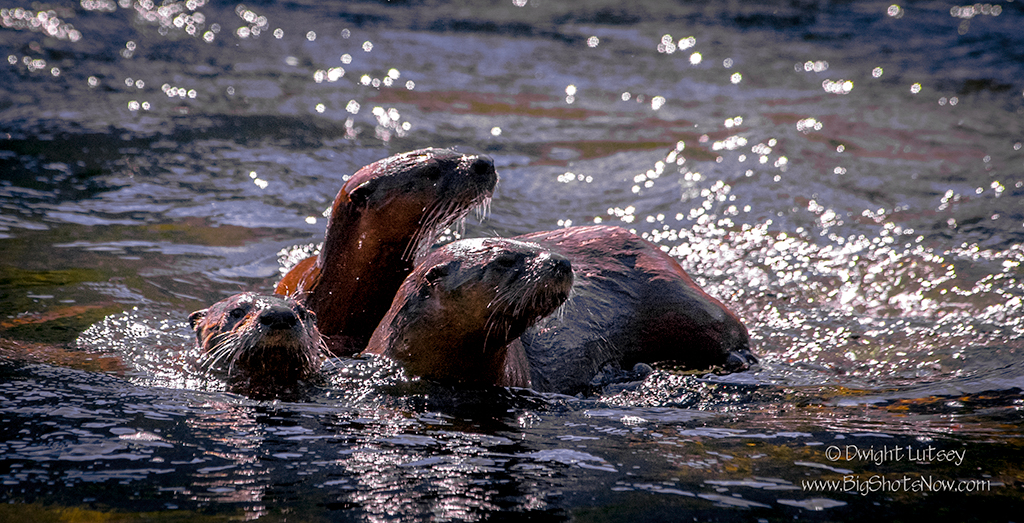 I was walking down memory lane this morning when I found myself along the Madison river in Yellowstone. It was way back in 2005 and I had been hoping to see some elk cross the river. Elk crossing the river is always good shooting. Bulls stopping to thrash their antlers in the water, throwing spray into the air, bellowing, cows bunching up to wait him out before they cross behind him. This was September so the rut was in full force and there was always lots of action.
But there weren't any elk. They had moved out to greener pastures and the river was empty. I was just getting ready to pack up and find something else to shoot when I heard a high-pitched squealing coming from downstream. It was a young otter that had gotten separated from its family and was crying desperately to be found. It was racing frantically back and forth along the bank, shooting out into the river, climbing everything it could find and continually calling out for the others to come find it. This was the beginning of a very good afternoon.
Now otters in Yellowstone are not rare. But they're one of those animals that you never see. Not unless you're lucky. You can spend your entire time hunting for them, chasing down rumors, staking out places where they've been and never see one. Then you'll talk to someone who had been picnicking at one of the picnic sites along the river and they're all "Oh yeah we saw them. They were fishing right in front of us. One of them caught this great big trout. It was really neat. There was like four of them.  You should have been here. " Serendipity plays a very big part in Otter spotting.
Now any place along the river is prime otter territory but there are some places more prime than others. I just happened to be unknowingly at one of them at just the right time. There is a spot on the Madison that is called the "Log Jam". It's just a little ways upstream past 7 mile bridge in a wide shallow bend in the river. It's shallower there than the areas above and below and consequently a perfect place for the logs and branches floating downstream to snag and pile up forming the log jam.
This is the otter equivalent of Disneyworld. They go absolutely gonzo nuts in a place like that. First off every part of the Log Jam in an E ticket ride, they crawl up on it, they dive off of it, they wrestle and toss each other into the river. They take naps on the larger logs that are warm from the sun, hang out, talk about their day, fight, play snuggle, goof off, and generally just be otters, plus there's food all over the place. Trout are always under and around the logs and so are the otters, because the only thing they like better than playing and sleeping is eating.
The otter family wasn't lost. They were just upstream of the log jam and the youngster was on the downstream side. After Mom heard the little one wailing she gave a few sharp barks and soon they were all reunited again. Thus began one of the most perfect afternoons in the entire history of Yellowstone, Photography, Otter watching and sublime happiness, ever. As if deciding to give this photographer a gift they spent the next several hours swimming back and forth between that Log Jam and the confluence of the Madison and Gibbon and Firehole rivers at the eastern end of the Madison valley. Maybe a distance of 5 or 6 miles. We, the otters and I, plus about a dozen other photographers that joined in, walked back and forth along that stretch of river until I had filled every storage card I had with me with otter pictures and the otters decided it was time to go somewhere else. Without a sound they suddenly turned and swam downstream faster than we could run and they were gone. In the nearly 10 years since that afternoon that I've been going to Yellowstone I have never duplicated that experience again.
Fortunately I have these images to remind me of that incredible afternoon. It's not the same but it's pretty darn good.