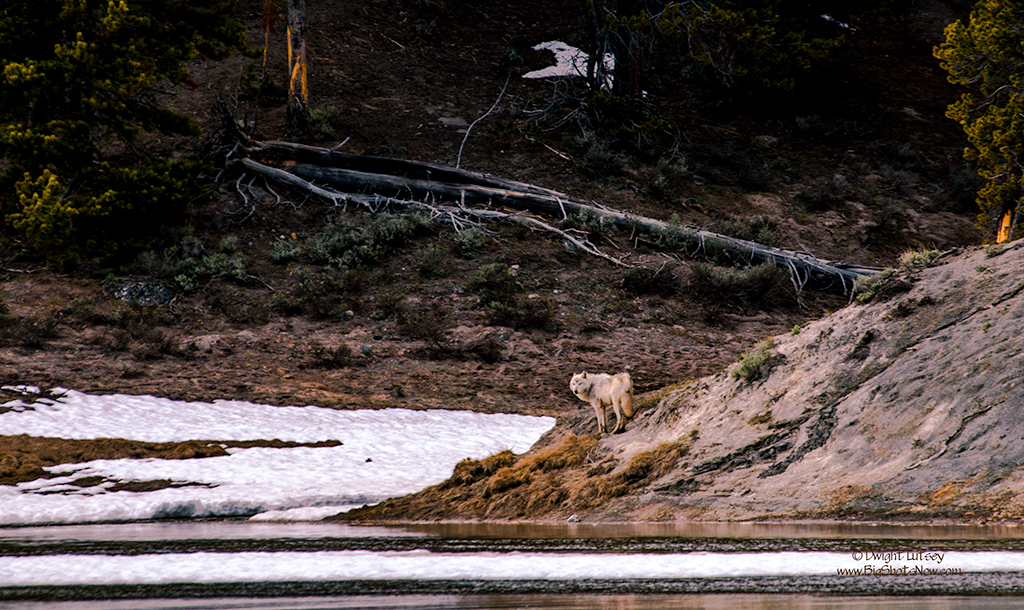 If you're lucky enough to be up along the Yellowstone river as it flows through the Hayden valley right now you'll see the last remnants of the snow pack slowly melting away. It's been nearly hip deep for months and now it's about gone. This is where Otter creek joins into the Yellowstone and in the past it has been a place where the Hayden valley wolf pack has had a den.
At this time of year unless the weather is bright sunshine this long sweeping bend in the river is shaded by large pine trees and with an overcast day like today it can look pretty forbidding. It's perfect for wolves however. They come and go silently, moving from one shadow to another like ghosts. The den is very likely tucked in under a boulder or dug into the side of a low-lying hill where the pups can come out and play on the loose dirt in front of the den, yet skittle back in if a low flying eagle happens by.
Being placed back in the ravine means that whatever would approach the den site would first have to swim the Yellowstone which at this time of year means a very cold crossing and they would still have to deal with the pack once they got to the den. It was a good choice to have it there.
This is one of the adult members of the pack returning from visiting an elk carcass the pack brought down several days ago. She stops and watches the watchers before disappearing into the gloom of the ravine. That den is inactive now. The wolves have moved onto another place equally remote and hidden to raise another litter. Fortunately there are lots of places like that in Yellowstone. Hidden, remote, distant, just right for the young ones to grow up into young adults. If we're lucky we'll get a chance to see them too, maybe even see their offspring but we'll have to be extra lucky for that.