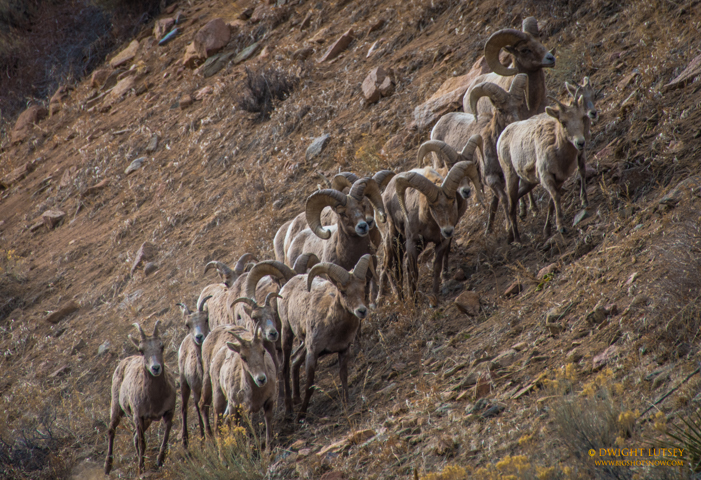 Eight is not enough unless it's Bighorn rams all in an unexpected bunch walking along highway 14 on a Friday afternoon. Then eight is plenty. I mean you can be greedy and ask for more but that is just plain selfish, eight is enough. They're bunched up pretty good but look carefully and count and you'll find eight good rams there amongst the ewes. They stayed tightly grouped like this. You could have dropped a net over the whole lot of them and got them all.
The rut is over, at least for this bunch it is. For those of you in the know the rut is when the rams get all chesty and full of themselves and believe that they are each God's gift to the ewes and are the only ones fit to breed and gift the world with their progeny and will battle to the death with the other rams to prove it. But when it's over and the fighting is done and the breeding is finished they're all like "Dude! How you doing. Sorry 'bout that! You OK? Let's go get a Pizza. No, I'm buying. You still got a headache, me too." They're all BFF, until next year that is, then it happens all over again.
This group of about fifteen animals appeared to be in really good shape. Healthy, well fed, alert. They're not all that skittish, allowing people to be within 50-75′ before they begin moving off but they will bolt uphill at sudden movements of any observers. It may be stating the obvious but the rams are heavy bodied and have the very heavy horns and the ewes have smaller bodies with the small somewhat short horns. There is always one or more of the ewes on watch and the rams tend to stay on the outside of the herd but not always. The more at ease they are the less they appear to be in defense mode.
These guys were spotted on March 2 and it was in the 50's in the mountains. What that means for an early spring is anybody's guess with our nonexistent global warming happening, but whatever it is here's your Bighorns. Enjoy.