Every so often we here at *The Institute like to present some new tidbit of information that our readers don't know anything about, but that we've known about for moments. Today it isn't really about ducks as the image above may imply, but it's about Jersey, the country, not the state with all the exits.
Let us back up a moment and explain. First did you even know that there was a country named Jersey. Bet you didn't. We did because today at our early morning staff meeting we were going over and analyzing the stats for BigShotsNow the blog and there on the report that shows which countries had visited the blog today, was Jersey. Jersey, the country. Many of our younger staff members thought it was a mistake and that the program had dropped the "New" part off of its name. It was those members that had flunked Geography continually right up until they had graduated from college that were most amazed that there could actually be a country named Jersey, and if there were, why had it been named after our American state of the same name. The "E Street Band" is well-known and certainly well worth it, but could it cause a whole country to be named after it? We don't know, it's possible I guess. That just goes to show you the value of the "No Child Left Behind" program where entire classes could be promoted to the next grade not knowing if they had walked to school, or wound their watch, as my dad used to say.
Now to use a phrase from one of our more forgettable vice-presidents those "nattering nabobs of negativity" will say "There is no country named Jersey. This is one of those con-jobs you Institutions pull to make yourself look smarter than us." Well, that's simply not true. It isn't, really!  As proof we offer the flag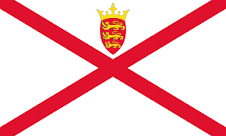 of Jersey, and a real map not drawn by us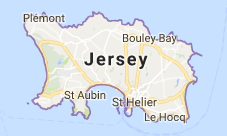 of the country of Jersey itself. This is a real map not some made up fake one that you see at other Institutes. As you can see by the inclusion of the five cities that are the primary habitation of the 100,000 people that live there. Our favorite is Bouley Bay, pronounced Boo-Lay not Bool because it sounds cooler. It's our favorite just because it is fun to say. "Bouley, Bouley Bay, OK, OK." See? We've been saying that all morning just as soon as we saw it on the map.
Yes, but what about the duck and the title "A Duck Flew Over Jersey"? If you've been a reader of the blog for more than five postings you know that we use a picture as a lead-in to our posts. Normally there would be a more obvious direct tie-in of the picture to the story, but we had this picture of a duck and then those guys from Jersey dropped in and well, we had to do something. So we asked around and sure enough a duck like this, or at least one similar, had flown over New Jersey and by using simple logic, which we might add we excel at, if a duck flew over New Jersey then by rights it could have flown over the country of Jersey too, so, then, well there you have it.  Note: the duck flying over Jersey, the country, may look significantly different than the one pictured above due to the fact that the duck pictured may not even live around Jersey, the country. We didn't have time, or frankly the inclination, to check that out. Tenuous connection maybe, but so what.
So we say to you folks from Jersey the Country, thanks for stopping by. It was great to have you here and thanks also for lending us the word "bailiwick". When we were kids we remember old people, those in their 40's and the really old near-death ones in their 50's, say things like " They're not from around these bailiwicks." when confronted with strangers, as if where we, the normal good people, lived was a collection of places grouped together that were separate and of course better from the rest of the countryside surrounding us. That meant that if you were from that other weird bailiwick, you could very easily be people of little worth. Of course now with all the political correctness going on we don't do that anymore, as all people are equally good and worthy. It's a great time to be American isn't it.
To all you Jersians, come on back, bring your friends, bring your flag, we'd like to see it close up. Spread the word that although you are a bailiwick-ian you're always welcome here.
* Note: For those of you unfamiliar with The Institute and what it does, please see the page labeled The Institute on the Menu Bar above. That should explain everything. You shouldn't have one single question remaining regarding The Institute after reading it. None. For those of you favored few who already know about the Institute, Nevermind.