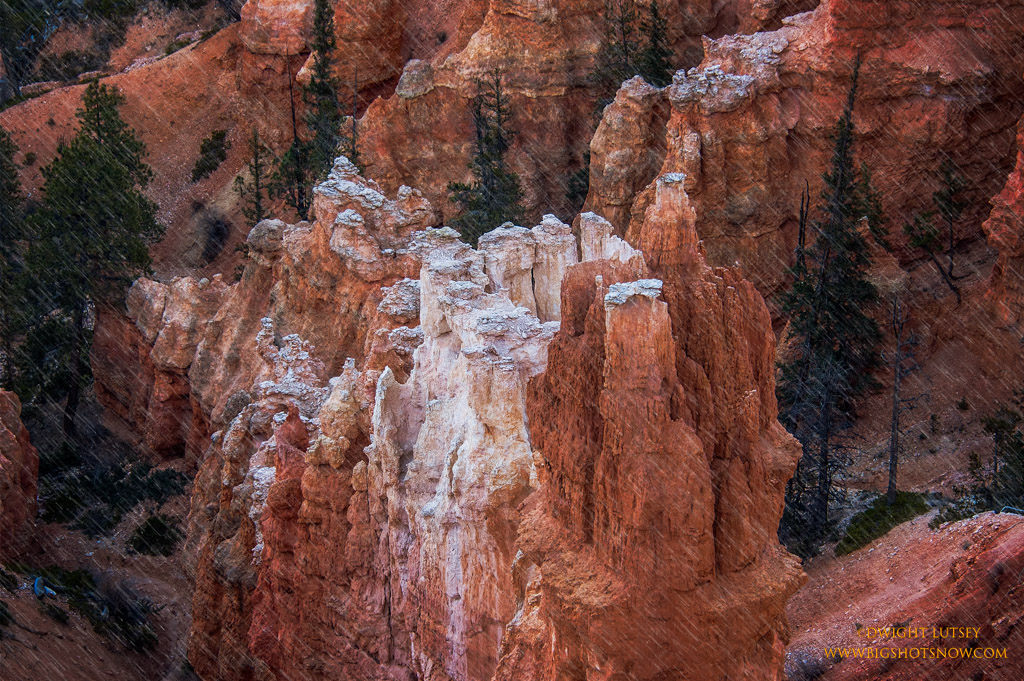 click to enlarge
We were at our favorite observation point at Bryce national park observing the state of the rock formations in the Valley of the Non-essential Hoodoos when it suddenly began to rain. That in itself is not that unusual, however it was only raining on this one particular set of hoodoos. Not on any of the other hoodoos, (of which some say there are too many of, but we disagree thinking that one cannot have too many hoodoos), but just on these particular hoodoos. As if by design. As if it was being created by some unknown entity just to rain there and nowhere else. A weather modification as it were.
"Hmm," we said to no one in particular "this has the look of some nefarious organization at work here. Could it be *The Institute?" But then we remembered that The Institute had gone bosoms up, as they say, hunted down and removed root and twig, never to be a formal Worldwide organization again. All of its minions, staff, even its Director cast to the four winds to seek employment elsewhere or to starve pathetically in a ditch somewhere. It's tons of equipment melted down for the slag market. All of its records, data and spiral notebooks snapped up by its jealous vindictive competitors to be pored through for their secrets. Secrets The Institute had developed over years of blood sweat and tears, not to mention hard work and no small amount of intellectual theft.
We were interested yet dismayed to find that a certain huge, yet well-known imaging processing software company (who shall remain nameless, but whose initials are ADOBE) have blatantly appropriated the Weather Modification program pioneered by the Oceanography and Atmospheric weather modification team of the now defunct organization known as The Institute and incorporated it into its shoddy yet expensive software. You can find it under Adobe/ Photoshop/ Filters/ Make it Rain on the Hoodoos/ Light/ Moderate/ Heavy. To support the claim that The Institute first developed this program we have done some research and found several items that reference The Institutes use of its weather modification program to do good in the world and not do bad, which we have listed below for your perusual.
Although those of us that remember The Institute are pretty darn mad at that heartless yet soulless large Company that apparently is getting filthy rich off the sweat of the people who made it all possible, we kind of secretly like the ease of how they made it work. The Institute's program was unwieldy, requiring lots of nuclear power and boring deep into the bowels of the earth for the pilings that held up the equipment and to keep it from shaking causing the neighbors cows to abort. Not to mention the excessive production of enormous quantities of EMF's around the power shed whenever they fired that stuff up. If by some stroke of fate The Institute ever returns we may just appropriate it for our own use again. Be warned Adobe whats good for the goose is good for the gander.