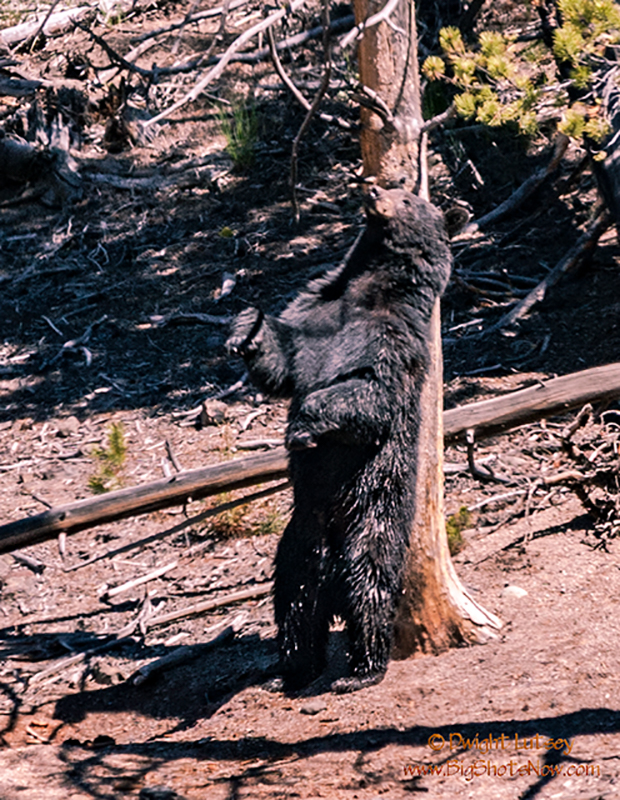 Oooooh Mann Does that feel good. I can't believe I've been wearing this coat for like five whole months. We need a bigger clothing allowance if the honchos here at Yellowstone want us to look good when the season starts. I cannot wait to get this raggedy old thing off. It feels like my fleas have fleas.
It's the first day of Spring and people are gonna be coming around looking at us and I feel like I just crawled out from under a bridge. Oh yes, right there. That spot has been making my teeth itch since the middle of February. Oh,k,k,k,k. I'm going to do this until June maybe even July.
The first day of spring is a time for celebration as it usually means good weather, new stuff to eat, time to look around for some of that winter kill. I am famished. Humans have it made. They can just take off their winter coats with a quick pull of a zipper and put on tank tops. Not us, I got like 12 more hours of scratching just to get the tangles out and then who knows how many days of squeezing through the oak brush to get my comb on. But I will look good. After all check me out. Even looking like this you know you want me.
Alright, the first day of Spring. I'm out of that smelly den.  After five months that's enough to gag a man's hinder. The suns out. I got the scratching tree first, looks like it might be a good year after all. Gotta run, well actually I gotta scratch and I need to concentrate here. Catch you later over on the flip side of Mt. Washburn. Where all the cool bears hang. I'll be the one with the shiny new coat. Have a good one. Write if you get work.
P.S. Yeah I know I'm a little fuzzy in the picture but the guy taking the picture kept getting in my space so I had to back him up some. Apparently he was a little nervous after I ate his wrist watch and he didn't hold the camera steady. And he was quite aways back and under his truck so I guess I can cut him some slack. You can decide how you want to handle it.