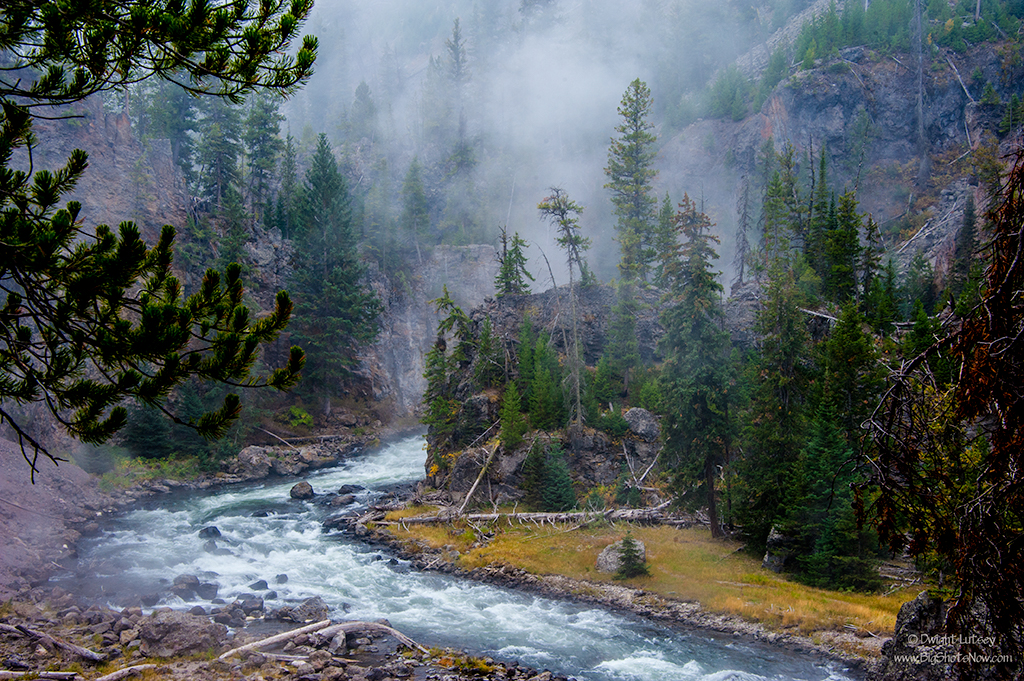 Listen up America! we have just discovered a huge and growing problem in our favorite National parks. That problem is "Unattended Landscapes". That's right, some of our most desirable sought after landscapes, the very reason many of us go to these National parks, are being left unattended. Look closely at this image and you will see that there is not a single attendant anywhere. We even went down there and looked around the corner at the river and yelled a lot to see if anyone would answer and there wasn't a soul.
This particular landscape happens to be on the Firehole river in Yellowstone National park, a park known for its attention to wildlife and the comfort of its visitors, and we found that not only was this portion of the landscape unattended but there were great huge stretches of the river that did not have a single person watching it. We were stunned. What is happening here? We pay enormous taxes to run this country right and we find that there are huge gaps in the allocation of that money. At least as far as protecting our scenic treasures goes. What is that money being used for? Sneaky, stealthy new bombers that we can send to wreck other people's scenic areas? What about us. What about our important problems?  Where are the concrete attendants shacks? Where are the white hybrid cars with the big national park stickers all over the doors? Where are the attendants? Where are the klieg lights to turn on to see if anything is messing with our landscapes after dark? This is shameful. Is this happening in our other National parks as well?
This is a question we intend to pursue and we will get to the bottom of this situation. There are the makings of a national disgrace here and we're not going to stop until we have examined every national park, scenic highway and byway, every national monument, state, county and local park, all those scenic areas on federal land that are visible from the highway, anything that looks landscapey, until these areas are fully attended and protected. We believe the problem of Unattended Landscapes is going to be our next national crisis.
Some of you may be saying "What's the big hairy deal, some of these places have been unattended for a long time." Well our response is "Yeah, So what ? What are you a communist?" There's lots of reasons we need to attend to our scenic areas. Things have changed since Teddy Roosevelt was around. We've got more people now and some of them are bad. We've got people who want to mow down all the shrubbery and drill for oil in the middle of the Firehole river and there's terrorists that want to sneak in and blow up a tree or something. We've got no idea what can happen. Some of these scenic places are irreplaceable. You don't just go in there and stand them up willy-nilly wherever you feel like it.
We know that some of you may have already noticed this situation and perhaps even begun acting on it but we need everyone to support this important movement. We cannot leave our God-given scenic areas to the happenstance of nonchalance. Get involved. Volunteer. If nothing else go to an unattended scenic landscape and park your car and watch these places. Be an attendant. If you're unable to spend weeks or months at a scenic site, write your congressman. Send emails to politicians running for office, find out their viewpoints about this problem, then vote your convictions. We're going to. Several times if it will help. OK then, this is our month to attend to a particularly scenic site along Highway 287 here in Colorado so we have to go. Remember, Pay Attention, Do Your Part, and Be Involved, it's the right thing to do.