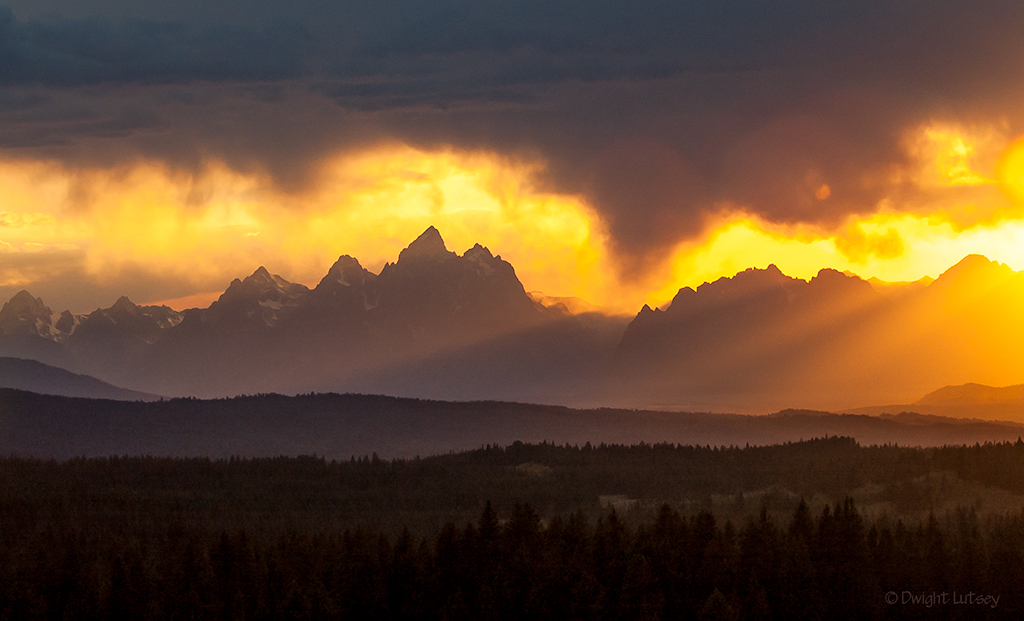 Click to enlarge
I think it is safe to say that there are sunsets and then there are sunsets. This is a sunset. One evening I was behind schedule trying to make it to Jackson before all the motel rooms were gone and I was having a tough time getting over Togwotee Pass because I kept stopping to shoot one thing or another. It was getting late, I was tired and rather than push in I stopped at the Togwotee overlook to drink some tea and have a sandwich.
There was thunder rolling in from the distance and a huge storm front was moving over the Tetons heading south. It was pretty dark and it didn't look like there would be a photo op because the sun was setting faster then the storm was moving, but never say never in this business. Just as I was packing up the clouds broke and lifted enough that the sun could stream through the break and this is the result. It only lasted moments then the sun was gone and so was this view.
I have been through this area dozens of times since and have never seen another sunset like this. The Tetons themselves are so beautiful that you can't imagine anything making them better, but every once in a while Mother Nature says "you ain't seen nothing yet" and does something so spectacular you can't believe you saw it. Photographers have a saying "Shoot it when you see it, it's not likely to come around again".