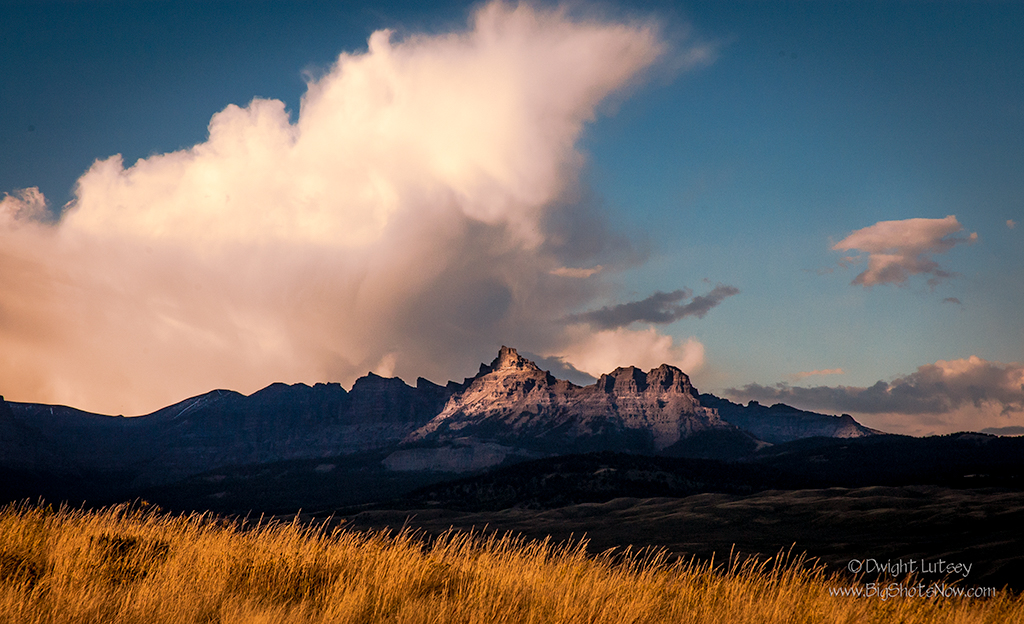 Cue blues riff: slow steady, talking blues style, capo on third fret
Bring bass up: There, right there
Cue singer: 5 4 3 2 ….
          Well, You can't get to heaven
            On 287
            But you can get as far
                   As you can get by car…….
I've mentioned this blues song* before in a previous post but it was brought back to me this morning as I was traveling up highway 287 in my Yellowstone portfolio looking for an image for today's post. I was cruising along noticing that the grass was going golden as it always does this time of year, seeing the images change as I drove through Fort Washakie towards Dubois working my way up towards Togwotee Pass, hoping to get there in time for the sunset over the Tetons. Dark was coming on fast and I knew I wasn't going to make it in time.
The clouds were building  over the mountains and there was more than a hint of snow in the air. I wasn't looking forward to running Togwotee in the dark in a snow storm so I put the hammer down and thanking the traffic gods for not having a Wyoming State Trooper in sight, hauled my keester down the road at a very high rate of speed.
But as they say, the best laid plans of mice and photographers oft-times get screwed up. Just when I thought I was going to make it I looked over and saw the sun breaking through the clouds, highlighting the mountain and I knew I was doomed.
As a shooter when you see light like this you have to stop and take the shot. It's the law. You have no choice. If it means running Togwotee in the dark, in a snow storm, which I did, you have to. These things don't happen every day. Every time is unique. You miss it you lose.
Later as you're squinting through the windshield wipers into the driving snow, exercising fully every descriptive phrase you learned in the Navy, your headlights fully illuminating the highway 10′ in front of the truck, you think about the wisdom of what you've chosen to do. The trip over the pass which would normally be about an hour takes three, but you know you wouldn't have done it any differently.
Fortunately I can review this image now, sitting here in my bathrobe, drinking English Breakfast tea, knowing I can see this sight on my screen and I won't have to drive Togwotee in the snow. Plus you get to see it too. See, cool things are happening all around. 2015 is going to be a good year.
* I attended a concert one time some years ago and the singer talked about a singer/songwriter friend of his that was writing this song. He may have mentioned his name but if so I've long forgotten it unfortunately, but I never forgot the lyrics.