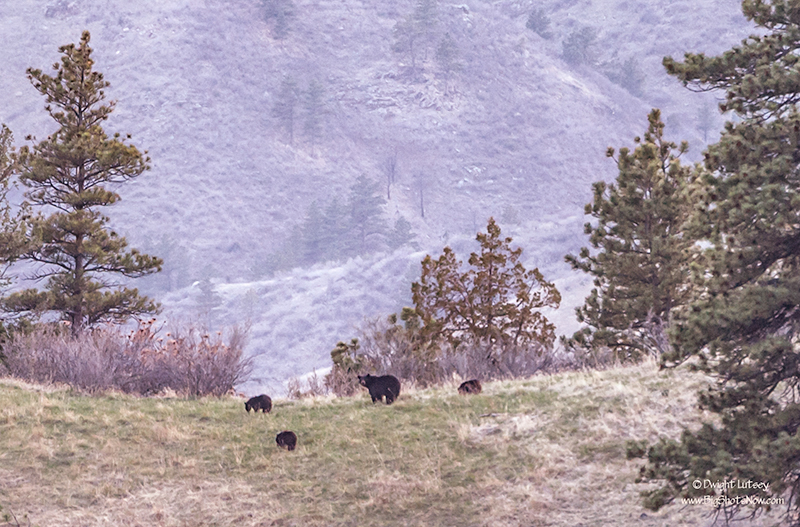 She's back and she's brought the kids, again! This is Edith Halfway Jones one of our resident Black bears here at *The Institute and if you are a long time reader of the blog you know that she is a regular here. It was exactly one year ago on May 12 that Edith showed up late for work and in danger of not only getting her pay docked but losing her position on the elite bear patrol that guards the inner perimeter of The Institute. Her excuse was three little bear cubs, obviously hers, that she had as a single mother over the winter.
Edith usually a demure, quiet non-partier had let her hair down or at least her fur, got hammered on a mixture of EverClear infused with pine needles, spent some time with a bear she had just met and the result was the triplets, Solenoid, Nodule and little Fleabert. For additional information about her return last year see this post.
http://www.bigshotsnow.com/bear-in-the-saddle/
We  thought she had left for good last Fall taking the cubs and heading into the far reaches of the back country outside the borders of The Institute and we wouldn't see her again. So it was with no little surprise when she showed up this evening, back in the saddle again, with the triplets stuffing their faces with as much of this new green grass as they could choke down. She looks good. She's sleek and shapely. The cubs look good too. They're fat for just being out of the den. Edith seems a little more calm and adjusted to being a mom. Last year she micro-managed the cubs a lot with a fair amount of growling and some biting but this year she's not concerned at all with their chasing around and heading off into the brush alone. A little chirp from her and they're right back where she can lay a paw on them if she needs to. Motherhood seems to suit her.
As was mentioned earlier she has checked in on the 12th of April this year, almost a month early. Last year she came back on the 12th of May. It's been warmer this winter and the kids probably got up early and after their playing squealing Climb on Mom games with their sharp little claws and head bumping for milk, she couldn't stand to hear them yell "Let's go out. I'm hungry." one more time she gave up and came out early. Luckily the grass is ready and there's lots of ground squirrels and voles around to eat too. The cubs are twice the size they were last fall.
There you have it. We got Spring. We got bears. There's even a pair of Bluebirds catching bugs by flying softly into the window glass with a bump and grabbing a mouthful and nesting under the deck again. What more could you want.
Spring iz Sprung.
The Grass is Riz.
I wonder where the Flowers iz.
Hope  your place is on schedule and your bears are back. Happy Spring to you all.
* Note: For those of you unfamiliar with The Institute and what it does, please see the page labeled The Institute on the Menu Bar above. That should explain everything. You shouldn't have one single question remaining regarding The Institute after reading it. None. For those of you favored few who already know about the Institute, Nevermind. Return to your daily activities. Thank you for your support.