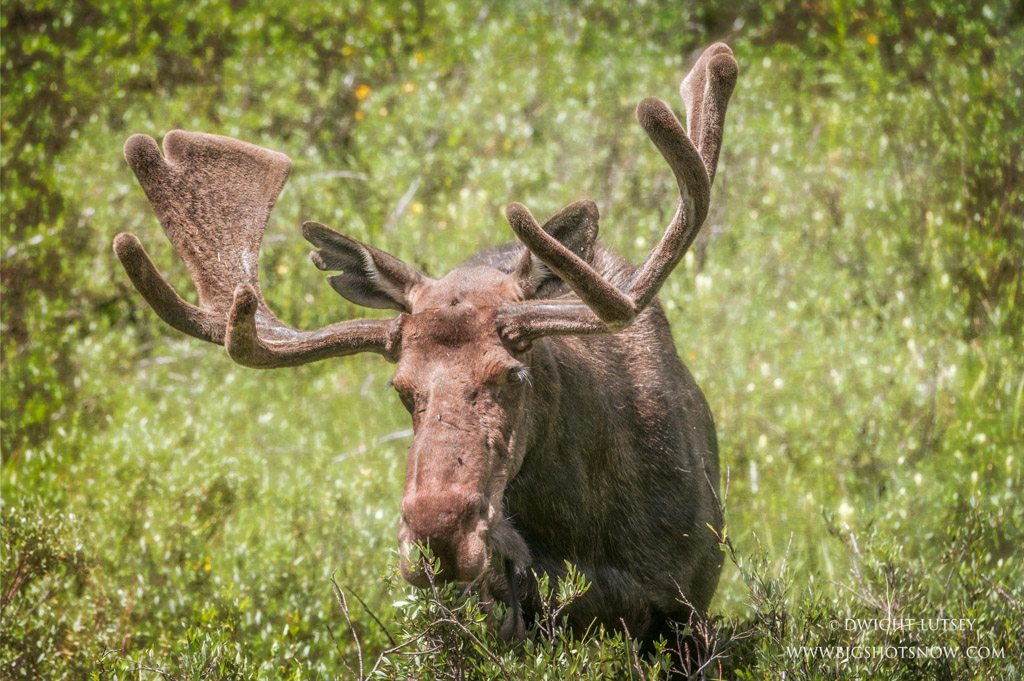 If you've ever spent any time with a moose you may have noticed that they have the average I.Q. of an avocado. That's not to say that they can't carry on a conversation or do simple sums it means that as far as being an ungulates' version of a genius is concerned they rank right up there with a two slice toaster.
Notch here is a prime example of moose intellect. His name was given to him by Mrs. Mom after a pack of coyotes tried to drag the young, not yet named Notch, into the bushes to have lunch with them. Notch was reluctant so they tried to convince him by leading him off by his right ear. By the time Mom got into it and reduced the pack by two and bent up the other three, Notch had the shredded ear that would be a constant reminder never to trust a bush again.
Now even though he stands nearly 7′ tall at the shoulder and weighs about the same as a Mazda Miata he still can not let a bush get by without giving it a thorough going over. Moose are slow to give up a tested theory, which in Notch's case means "all bushes bad until proven otherwise" which is his first and guiding precept.
Why didn't he learn through the years that bushes in general are harmless enough if unprovoked and go about his life? The only answer we can come up with and we must state at this point this is an untested theory, is the fact that those enormous, but giant antlers grow at an alarming rate and they possibly grow inward as well as outward. We know this seems unlikely but to date we have not seen hard evidence to contradict this possibility. This of course would cause a deflection of the brain pan and a pressing on the frontal lobe of his brain, compressing it and reducing it if not mashing it flat, which would interfere with some cognizant behavior. Which would cause the average observer to conclude that Notch was as dumb as a box of rocks.
Recently on a moose observation workshop and image making field trip we found Notch and to our surprise found him at hard at work staring at this bush. We came and went from this bush laden area several times during the day and found Notch still steadily at work assessing this bush. We saw that he had his work cut out for him as the entire meadow of many, many acres was entirely covered by bushes and this was the first one he had approached.
We are bringing you this news in case you are a frustrated moose watcher or photographer. One who, try as you might just can't find a moose, developly challenged or not, to observe. Head on up to Long Draw on the way to Cameron pass and you should be able to spot Notch still at his task. I wouldn't break any speed limits getting here. There's lots of bushes left.