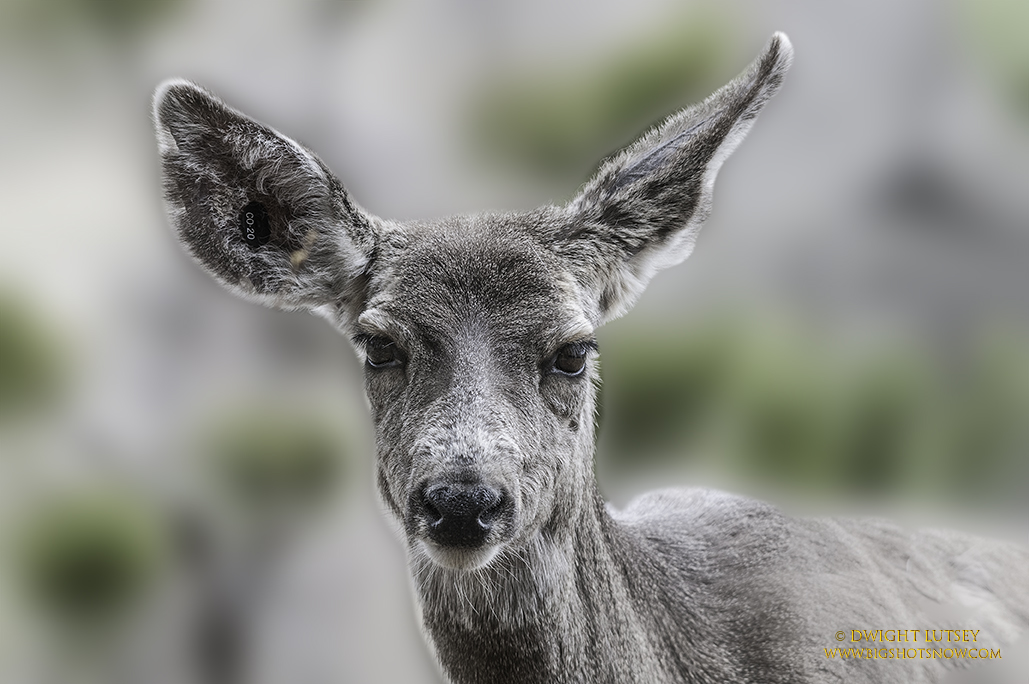 Does this picture make my ears look big? Click to see more
Listen we need to talk. It's about this clock thing, the setting it back an hour that you guys do every year when it starts to get cold. I know I've heard some humans talking about it as they walk by. How it makes it dark at 3:30 in the afternoon and it's still dark when you get up in the morning. It really causes us a problem. See it doesn't matter to us what your clock says. We get up when it's light and we go to bed when its dark. It's an agrarian thing. Unless of course we 've been eaten by something during the night, then all bets are off.
I've got kids, three of them. Solenoid, Nodule and Edna, the triplets. Yeah I know, I was lucky, but even so that's the last time I'm going out with that smooth talking buck from Loveland. The point is though, they're all just one year old and don't have the brains god gave a toaster, but they're good kids. The problem is now that it's night way early for you folks, you're driving in the dark earlier, the visibility is dorked, and my goofy half-witted kids are standing on the side of the road, in the road, in the ditch ready to dart out whenever a synapse fires in their tiny little brains and you're tooling along thinking about dinner or whatever and there's my little ones in your lights.
Yes, the obvious answer is "Hey! don't stand in the road." There is an answer for that and it's a function of what makes us Mule deer. We're prey animals. We exist to feed other animals up the food chain. Cougars, they're the really mean ones, Wolves, not too big a problem unless you live in Yellowstone, Wild dogs, a problem anywhere, and unfortunately you guys. Yes I know, you don't start home with the idea of hunting and killing us, or even hitting us for that matter. Many of you don't want to, just because of issues with your insurance companies. But because we are prey animals the safest places at night or the edge of it, dusk, are open spaces like meadows, those flat grassy places behind high schools with all the white lines on them, yards, yards are nice, and the open areas along the roads you guys use to get where you're going. Shoulders, verges, bar ditches, medians, berms, especially at night, that's when the creepy things are out to get us so it's safer to be somewhere where we can see for along way.
I've been asked "Why then, do you run into the path of the oncoming traffic, I know you said your kids are dumb, but wouldn't it be better instead to race back into the shadows of the forest, eh?". Therein lies the very answer to that question. The forest isn't safe at night. Safe from you maybe but not from the dark evil things that like to eat us. Some of you have also driven into the forest with what I believe has been the express notion of getting us, and if all those trees hadn't stopped you, you would have. I don't why you do that. The end result is still a broken vehicle and the same insurance issues, but you're the smart ones, so we have to defer to your ultimate wisdom.
My little ones had a near death experience the other night by running out in front of this 18 wheeler. Luckily the driver was able to lock it up and not hit them. I asked them why they did that and their answer was, "the other side of the road was the only thing they could see in all that bright light so they went for it." We don't have the ability or the spatial recognition to judge the relative speed of an oncoming vehicle, especially in the dark, so our threat assessment is all screwed up and we become 100 lbs. of ground round before we can get out-of-the-way.
What's the answer? Simple. Kill all the cougars, wolves, bears, and wild dogs so we can stay back in the woods. That would be cool. If that doesn't work for you, slow down. Watch for those deer on highway signs. Did you know they were put there because a deer was killed there. We're creatures of habit. One of us getting taken out doesn't change the fact that we've been using that crossing since before a road was there.
Yes I'll talk to the kids again. Nodule shows some promise, but the juries still out on Solenoid and Edna, so I don't hold out much hope. But I will try. Meanwhile put yourself in my place. Cougars and wolves on one side. 3000 lb. unyielding metal monsters that wouldn't recognize a Mule deer if it slammed through their radiators. Give us a break please. Seeya in the Spring when they put the clocks back to normal. If we make it. Ciao