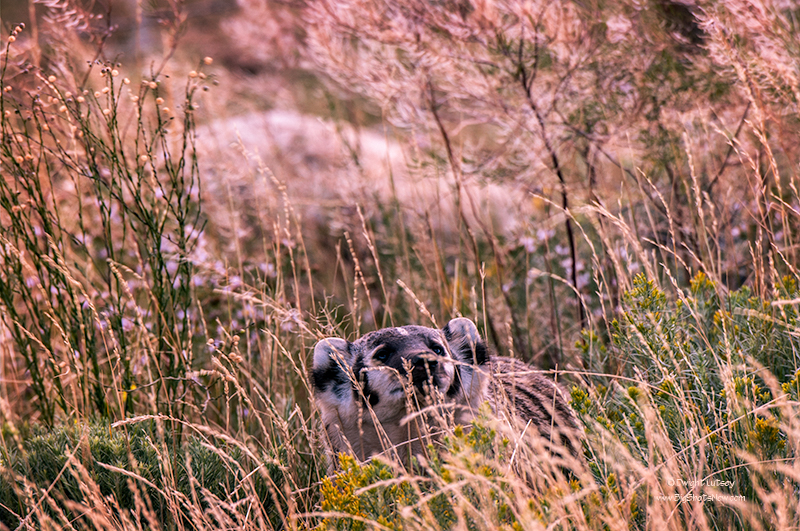 Christmas time. It's that one time of year when everyone becomes a different person. They become the person they want to be all year-long but never quite pull it off. They're full of good cheer and fellowship with love for family and friends, and even to their fellow-man however much they can't stand them the rest of the year. A time of togetherness and gift giving and feeling good. All of their problems and sorrows, anger and frustrations, are swept away by the joyous feelings of the Christmas spirit. It is a time of peace.
Unless you're a  badger.
Badgers don't care about no stinking Christmas. They're badgers. They may put up wreaths at the door of their sett and install those laser lights to light up the mound around their homes but that's only because they think that Christmas is a good time to take advantage of those ground squirrels they favor, and play on their fondness for the Holiday season. Ground squirrels are notorious for loving Christmas. They dress up in little Christmas outfits, they give gifts of gaily wrapped tufts of grass to each other. They decorate their burrows with home made decorations. They hang mistletoe over every doorway. They make a slightly alcoholic beverage that resembles eggnog and get hammered. They sing ground squirrel carols and go door to door wearing little scarfs and ear muffs with reindeer on them. They make a big deal about Christmas.
That's why the badgers look forward to the Christmas season. They wait patiently for the ground squirrels to ring the front doorbell then invite the slightly inebriated rodents in for a hot toddy or two. Completely taken in by the Christmas spirits and a quart or two of those everclear infused eggnog drinks they love, and of course totally forgetting that they are the badgers primary food source, they enter into the badgers den.
We'd like to tell you that in the spirit of the holidays that they all sat down, both badgers and ground squirrels, and celebrated this time of peace and joy together but we're talking about badgers here. Badgers don't change their spots. Badgers don't care about peace and joy. Behind those festive grins and hale and hearty expressions of brotherhood they're still badgers. So they shut and locked the door behind the last tipsy ground squirrel and celebrated with the ground squirrels in their own typically badger way. Suffice it to say that the badgers larder was well stocked for the next few weeks.
When the badger above was asked about this unusual but unseemly behavior in a time of peace and understanding, he got a faraway look on his face and appeared to reach back into his memories and said "You know, that was a good Christmas. We invited the rest of the family over for a big meal. We ate until we were stuffed, watched It's A Wonderful Life on the box and the cubs played with the bones. We all felt thankful for the season. It was a good Christmas."
May all your Christmas's be good.