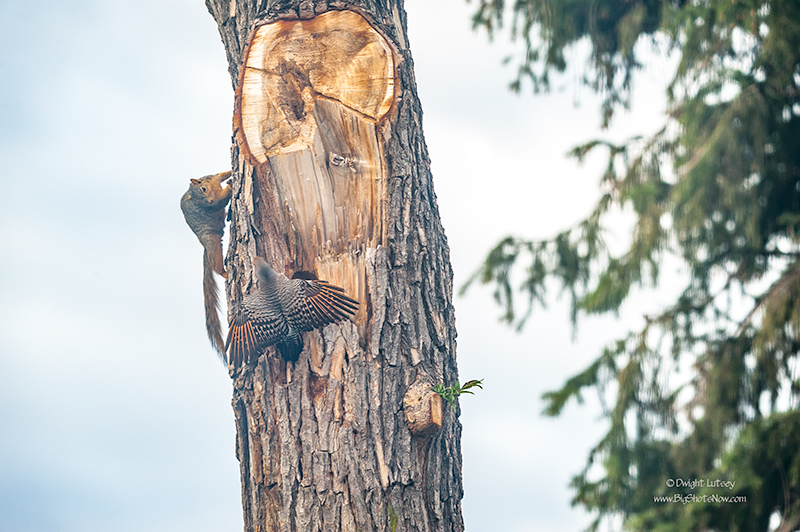 There had been a tightening of security around the Willow tree in the forest near a highly classified area close to our current location. We noticed the tree had been scrutinized by several agencies and even had some type of corrective or punitive surgery, some might say preemptive but we know punitive when we see it, performed in the recent past. Limbs had been hacked off willy-nilly. Untreated wounds were left to heal on their own. It had been rated a Def-con 3 type tree before but lately something had worried the inspectors about its possible interior health and it had been upgraded to Def-con 5 status. This is a severe rating normally only given to a tree thought to be in imminent risk of implosion and usually means corrective if not terminal action needs to be taken quickly.
Prior to any drastic action actually taking place in cases like this such as cutting it down to its nub, or yanking it out root and stem, an arborist is sent in to monitor the tree due to its poor condition. Massive limbs had been mysteriously tearing loose from their moorings high in the canopy of the tree and falling to the ground dozens of feet below. Obviously, havoc ensued amongst those standing or living below it. Each of these limbs weigh several hundred pounds or more and become deadly though unwieldy missiles as they plummet towards the earth at speeds reaching dozens of feet per second. Not quite light speed but fast enough to slam into something pretty darn hard. Several disturbing reports of small animals being terminated had been bandied about, especially the demise of one LlhasaDoodle named Eugene, when he was discovered under one of these errant limbs. Nothing but his four little feet remained sticking out on either side of the heavy branch, his bright little toenails the only sign of joy in that sad scene. The only good news was that due to his now current flatness he was able to be interred in one of those Priority Mail, small flat rate boxes that they give out free from the Post Office. The handy dimensions of the side loading box (8 11/16″ x 5 7/16″ x 1 3/4″) lessened the financial burden on the bereaved owners and made it easier to insert little Eugene with the minimum amount of bending him significantly and speed him on his final journey.
The arborist after being assigned to this tree, in this case an orange-shafted flicker, immediately began extensive boring into the heart of the tree to ascertain what kind and how much damage was really there. You can see the main shaft it had started directly above its right wing. Extensive work had been done by the flicker to drop the main shaft into the vein of misery that had developed near the center or heart of the tree. Unfortunately it was not good news for the tree. The news was bad, in  fact, real bad. A condition known as "TreeKablooey" which taken from the Latin means "that which is ripped asunder", or to clarify further as it is known in lay terms " Whoa, Ja see that, that sucker just all swolled up of a sudden and blew itself to begeezus." This is normally a terminal situation for the affected tree.
The flicker in a vain attempt to save the tree was in the midst of performing a risky and rare procedure called a Tree Colostomy which is technical arborist talk to describe a surgical operation in which a piece of the vein of misery (the affected area of bad crap making the tree miserable) is diverted to an artificial opening in the abdominal wall of the tree's trunk so as to bypass a damaged part of the mess affecting the tree. That would allow all the bad stuff causing the tree to blow its limbs off to drain harmless down the side of the trunk. Unfortunately it didn't work. Not only did it not work it aggravated the problem by creating another route for the built up pressure to escape. Now it was every man, bird and squirrel for themselves. The Tree Removal Specialists or the Bring Out Your Dead team was placed on standby and notices were sent out. It looked like the end for a huge old willow that had steadfastly stood there was for decades.
One of the tenants of the tree alarmed by the frequent seismic disturbances that traveled up and down the tree's trunk came down to find out what the problem was. When the arborist explained the situation to him his immediate response was "What about my nuts? How will I protect my nuts?" The flicker tried to explain that the tree was doomed and about to disintegrate, not to mention blow the hell up, and he should worry more about himself and any loved ones he had and less about his nuts. But as sound as this advice was it did little to soothe the frantic squirrel who takes his nuts very seriously. "Move your nuts now if you're going to!" yelled the flicker and began a warning drumming on the tree to alert any other tenants who might have nuts or any other valuables to protect who hadn't gotten the message yet that they should flee. There was a flurry of activity as the various tenants began scurrying about carrying off their valuables in their beaks or in a small rucksacks attached haphazardly to their persons. The squirrel having finally settled down was seen dragging his own nutsack, in which he had all of his important nuts, down the tree to safety. Lives were saved, but unfortunately not the tree. It wasn't long before there was a huge explosion of sound as the main branch then the other lesser branches following closely behind, shattered and broke loose.
Then there was nothing left but a pile of broken branches, leaves, twigs, empty nut shells, displaced bark, and other debris to mark the site of a once great member of the forest. Even the mighty trunks or limbs most as big around as a Russian swimsuit model had fallen and shattered. It was well and truly a spectacular death of a Willow. Could this have been prevented? I don't know, maybe. Did it happen at all? Uhmm maybe, probably not, but it could have. Stuff like that happens all the time. Do squirrels worry about their nuts that much? Yeah, I'd say they do. And with that we leave you with the warning "Do not your house build under the large Willow for it might just come crashing down and bust your crap up." Just something to ponder.