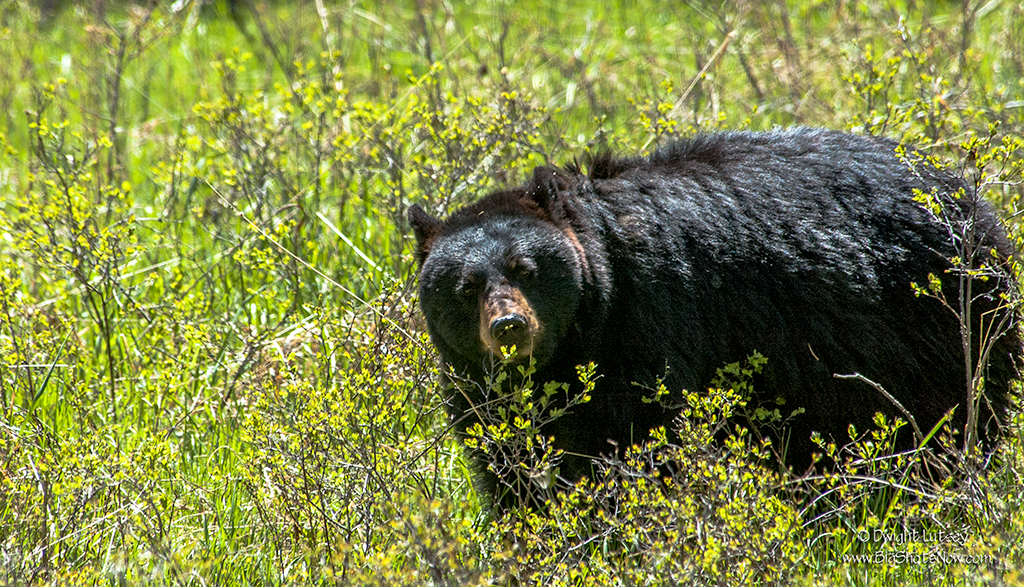 When bears first wake up they are very, very hungry. They haven't eaten since way last fall and they have to get something in their stomachs like right now. If it can be chewed they will attempt to eat it. Grass, old semi-used carcasses, any footprints in the dirt if some one walked by carrying something edible, peanut butter, nuts and/or berries, pizza, knapsacks with food in them, Chinese food either take out or eat in, gluten-free stuff, stuff with extra gluten, French food, cereal of any variety, tires that have run over roadkill, chili, chili dogs, dogs, manioc, coconut and coconut byproducts, leaves, buds, disgusting stuff that can't even be written down, cook books, quarter pounders, quarter pounders with cheese, and lard. All of this and more is on the menu when the bear first wakes up.
So they go forth and ravenously eat anything that is remotely edible until they finally fill up that spot that says "I'm starving. Feed me." After that happens they begin to become a little more selective in what they eat. Some even become connoisseurs and quite sophisticated gourmets, choosing only the choicest of the new offerings provided them by Mother Nature. Here we see Ms. Eula Ndego Jones, a new resident of Yellowstone National park, having come down from the famine stricken wastes of southern Saskatchewan through Montana and finally reaching the park just as the new leaves are unfurling. She carefully inhales the aroma of the young leaves before choosing the most delectable ones to eat. A few weeks ago she would have eaten the leaves, the bush and all its branches, plus about a pound and a half of the dirt around it.
But now, having regained some of the weight she lost through her long hibernation, she is being quite choosy about what she eats, taking delicate little bites from this bush and that, enjoying the moment, slowing down her intake just a little while she enjoys the warm spring sunshine. This is a time to enjoy the coming of the new season. It won't be long before the elk start having their young and the calf selection will be at its premium, if the winter kill wasn't too severe amongst the herds that is. But if it was then the carcasses will be plentiful and that will make living a lot easier. And there will be all those young ground squirrels that haven't learned burrow safety yet so life is looking pretty good right now.
Spring is a time of rejuvenation and the animals here in Yellowstone have learned how to take advantage of it. I think we could all take a lesson from them about slowing down a little and savoring the moments of this time of year, after all Spring doesn't last that long. I think we can forego the old carcasses and young ground squirrels though but those leaves might be nice in a salad with a few Fava beans and a nice Chianti.